Michele Neff Hernandez is the founding President, and Executive Director of the Soaring Spirits Loss Foundation.  Soaring Spirits is a non-profit organization committed to providing resources and peer support to people grieving the loss of a loved one, with a special focus on those who are widowed. Michele is the creator, and Director, of the Camp Widow Program; a first of its kind event bringing together widowed people from across the country and around the world who are seeking to recreate their lives in the aftermath of the loss of a spouse or life partner. In addition to her work with the foundation, Michele inspires people as a motivational speaker and freelance writer.  She also works as a member of the Bereavement Training Team for the Archdiocese of Los Angeles, and is a regular contributor to various websites, blogs, magazines, and collaborative book projects. Michele was privileged to be the wife of Phillip Hernandez, until his death in August of 2005.

Eric Hipple
Eric Hipple was a former National Football League (NFL) quarterback for the Detroit Lions from 1980 to 1989. Hipple's accomplishments include two playoff bids, a divisional championship, and the most valuable NFL player award in 1981.  From 1995-2000 Hipple hosted an NFL pre-game show in Detroit.  His life took a tragic turn when his 15-year-old son Jeff died by suicide. Hipple has since devoted his life to building awareness and breaking down the stigma surrounding depressive illnesses. Hipple received the prestigious 2008 Lifetime Achievement award given by the American Foundation for Suicide Prevention. He also received a presidential citation at the American Psychological Association's 2006 Annual Convention for his six years of national community-based work combating adolescent depression and suicide prevention.  He is the author of Real Men Do Cry: A Quarterback's Inspiring Story of Tackling Depression and Surviving Suicide Loss and co-author of a study looking at depression among retired football players in the April 2007 issue of Medicine & Science in Sports & Exercise.  Hipple is an outreach coordinator for the University of Michigan Depression Center and also serves on the board of the Mental Illness Research Association and the American Association of Suicidology.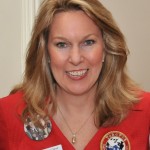 Bonnie Carroll
Bonnie Carroll is the President and Founder of the Tragedy Assistance Program for Survivors (TAPS), the National Veterans Service Organization providing peer based emotional support, grief and trauma resources and information, casualty casework assistance and crisis intervention for all those affected by the death of a loved one serving in, or in support of, the armed forces.
Ms. Carroll currently serves on the Department of Veterans Affairs (VA) Advisory Committee on Disability Compensation, the Board of Directors of the Association of Death Education and Counseling, the Department of Defense (DOD) Military Family Readiness Council and she recently co-chaired the DOD Task Force on the Prevention of Suicide in the Armed Forces.  Ms. Carroll served in Baghdad, Iraq as the Deputy Senior Advisor for Programs in the Ministry of Communications. She continues to work with Iraqi surviving families facing traumatic loss.  Before going to Iraq, Ms. Carroll was appointed to be the White House Liaison for the VA in Washington, DC.
Ms. Carroll founded TAPS following the death of her husband, Brigadier
General Tom Carroll, in an Army C-12 plane crash in 1992. She is a
trained Critical Incident Stress DE briefer, member of the
International Society for Traumatic Stress Studies and the American
Association for Death Education and Counseling. She has authored
numerous articles on grief and trauma and appeared on CNN, FOX, NBC's
the Today Show and other programs speaking about military loss. Ms.
Carroll was featured in People Magazine "Heroes Among Us" and received
recognition as "Washingtonian of the Year." She has also received the
"National Citizen for 2010″ award from the Military Chaplains
Association.
Dianne Gray
Dianne Gray is the President of Hospice and Healthcare Communications, an international firm focused on furthering advocacy projects and education/communications initiatives involving all aspects of end-of-life and palliative care.  She is the President of the Elisabeth Kübler-Ross Foundation as well as a board member of International Children's Palliative Care Network, National Hospice and Palliative Care Organization's Pediatric Leadership Council. Dianne is a nationally recognized speaker, and an award winning writer/journalist, filmmaker. Dianne sits beside with the ill and the dying, and still sees her family's ten-year pediatric hospice/palliative care experience with her son, Austin, (who died in February 2005) as the gift of a lifetime.