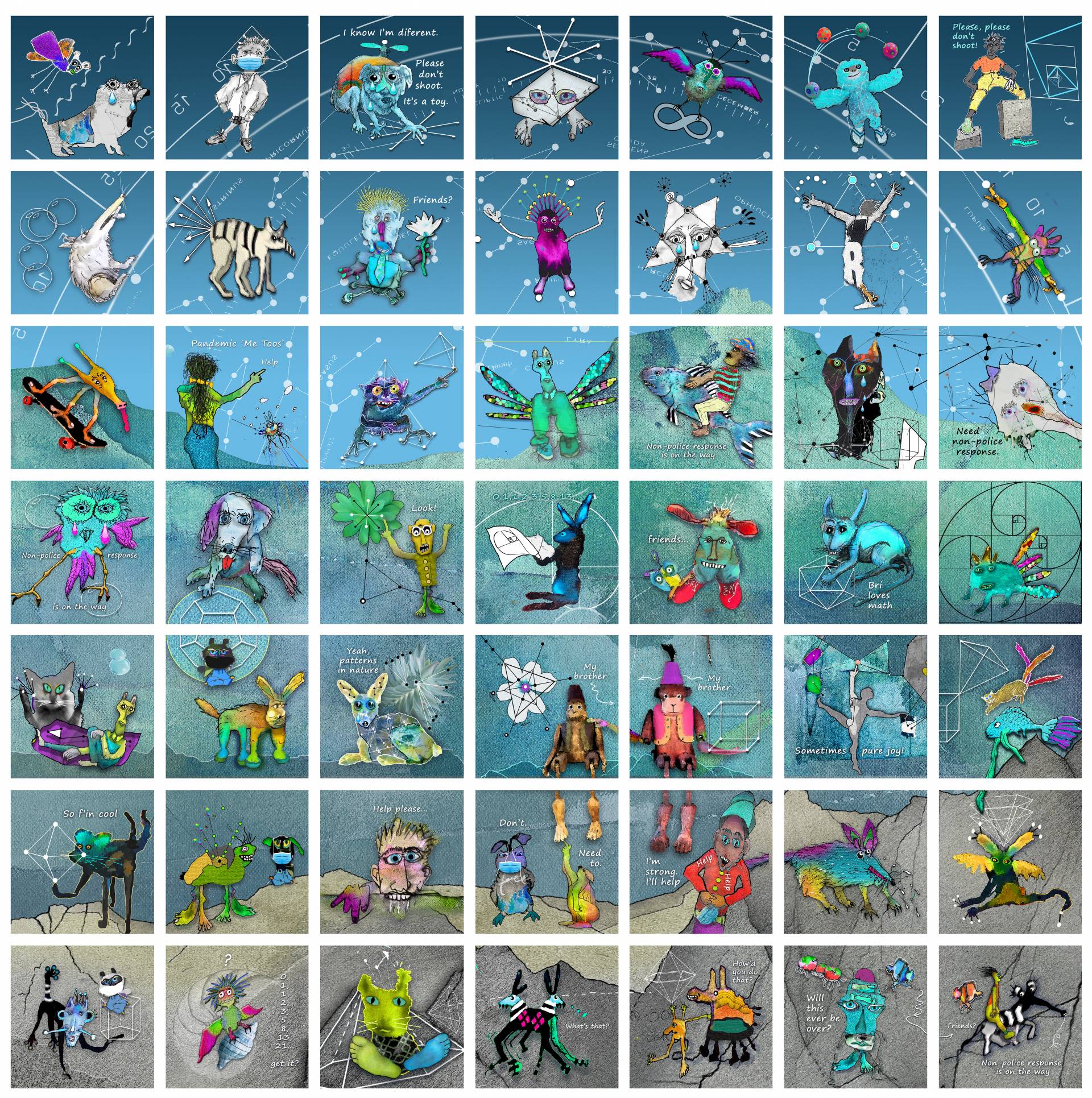 At the Museum Studios
These days, if you were to have a cup of tea—over Zoom—with Neil Murphy, the artist might share with you how his world is still under construction. He is rebuilding it after losing his son to suicide in January, 2019. When I first visit Neil's space at The Peninsula Museum Studios, in Burlingame, on the San Francisco Peninsula, I look around knowing that I am sitting in a spot on the globe that is very soon to be taken from him and dozens of other artists. The museum and group studio space where he has had his studio for seven years has just learned it has lost its lease. Another blow.
I see pieces on the walls and stacks of his work, including some specific pieces he had spoken about that were collaborations with Brian. His website tells the story of one recent series—works he and Brian did that evolved in dialogue with one another. They were an attempt to allow Brian to depict in visual form what it was like to live within his Schizophrenia.
The studio had other reminders of Brian. There was a small white couch near the window that overlooked the garden where he often sat when he visited. "No amount of wishing or pleading with the universe could place him there again," says the artist, revealing what goes through the mind and heart of a grieving father that others who have gone through a similar experience will likely recognize.
I have attended museum events at the (now closed) Peninsula Museum in the past, but I have never been upstairs. The bonds among the artists here took years to develop. "My studio was a refuge," Murphy says. "The artists who had studios adjoining mine were comfortable when, in the first weeks and months after Brian's death, I asked if I could come in and cry—that I just needed to be in a friend's company. They always understood," he continues.
Before losing Brian to suicide, consider that this family had already lost part of the child they knew. Another part of him had already disappeared—into a terra incognita, Schizophrenia. His hallucinations and obsessions often left his family outside this private world. As Murphy describes, "The part that remained was exceptionally insightful of his own differences. He would often ask if his perceptions of his surroundings and ongoing conversations were correct; was his thinking, he would query, a 'part of what's called 'consensual' reality?' He would want to know."
There was only so much his family could do to cohabit his world. "I remember feeling he was at the bottom of a deep ocean, and trying as I might, I could only wade helplessly in the shallows. It was impossible to reach him," Murphy says. Though they may have felt outside of his illness, they built a bridge to him. They responded constructively, dealing with the turn of events by co-founding a nonprofit, The California Clubhouse. Its website describes the international organization as "…a community that offers hope, encouragement and opportunities to people who live with mental illness. It offers people living with mental illness opportunities for friendship, employment, housing, education and access to medical and psychiatric services in a single caring and safe environment. This social and economic inclusion reverses trends of higher suicide, hospitalization and incarceration rates associated with mental illness."
The 2020 edition of the 50|50 Exhibit at the Sanchez Art Center
When Murphy and I connect for a second interview, this time, it's against the backdrop of a Covid-19 world. Neil has passed the one-year anniversary of Brian's death. Covid arrives. I learn he will be participating in the 50|50 Exhibit at the Sanchez Art Center, which I call the 2020 edition of the 50|50 Exhibit because it stands apart. It is different.
All the while, I keep returning to the deep bass line of how one father lost one child and how poignant that story was, while I keep hearing a multitude of heartbreaking stories, like the 20 something bride-to-be who was laid to rest in her wedding dress. Even after learning of thousands of Covid-era losses, I want to make sure I bring the Murphys' journey to the foreground.
A regular part of the annual calendar at The Sanchez Art Center, the 50|50 Exhibit is in its 12th year as a fundraiser for this Pacifica, California gallery. This year is an especially poignant year—an unprecedented time—for artists and everyone. They have decreased the number of in-person participants and found new ways to invite the public to see the show—by appointment. They also created a 50|50 virtual exhibit. Talk about a good sheltering project—just like every year, artists receive 50 canvases and are asked to complete one small work a day. This year, many pieces offer an explicit look at how the individual artists are reacting to our new normal, the multiple global and local crises that we are all too familiar with. It is good to take in the varying particulars of each personal artistic journey created amidst the cultural havoc of our historic moment.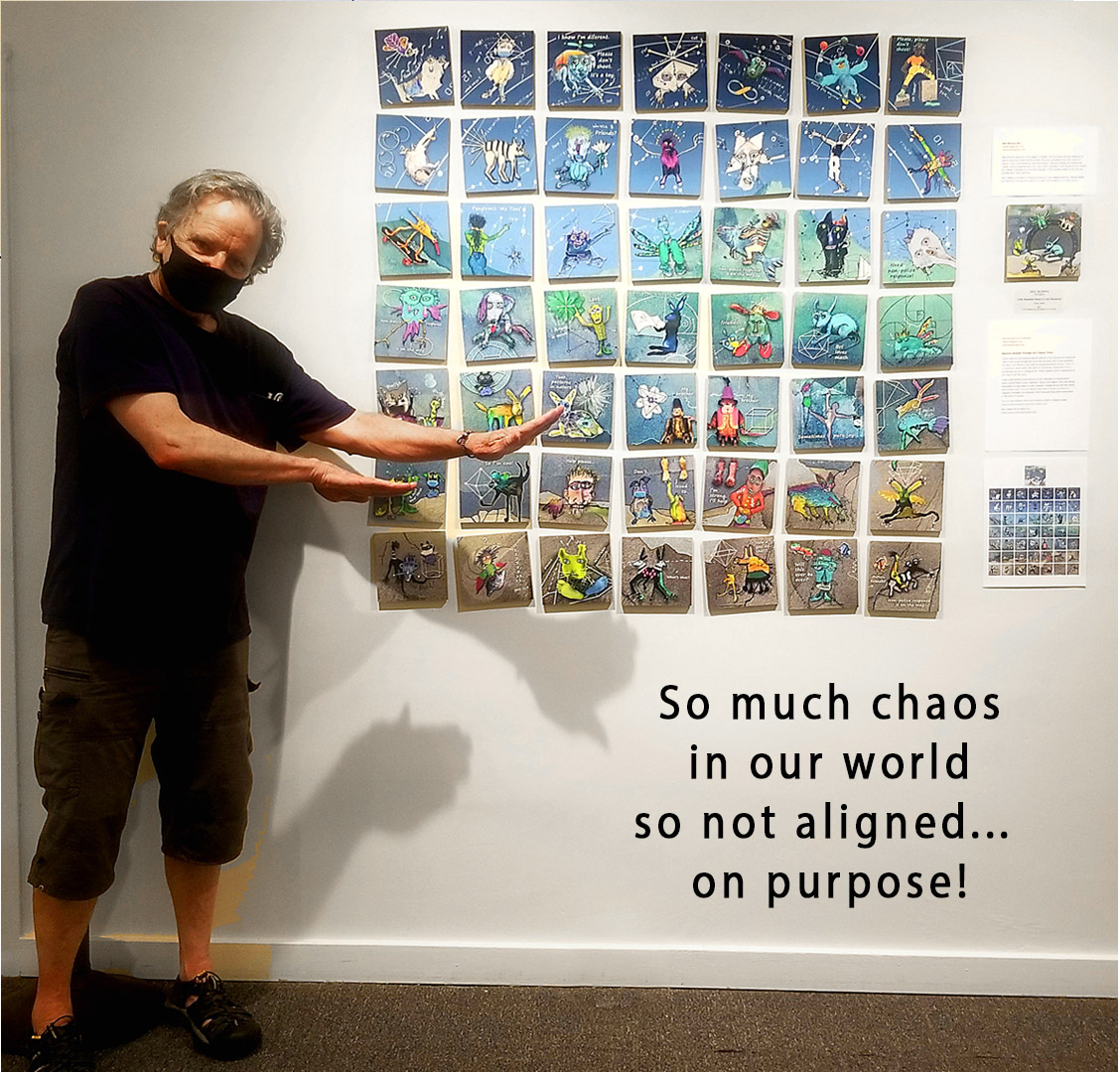 Murphy's entry is a series titled, "Small Beasties Wander Through Our Chaotic Times." The composition is broken up into a grid, a series of 50 8" x 8" square canvases. These 50 squares are inhabited by the artist's signature Animalia. Creatures, some of whom defy the laws of gravity, float up into the sky while others greet you from a mountain top. The participating artists carefully align the grid of their artwork, but Murphy deliberately set his small squares askew. Hung crookedly, they create their own commentary, which, for me, adds up to a visual sense of disruption and is an analog to the chaos that is currently reigning. It sets us up to understand what kind of world we are seeing on the wall—and in our daily lives since Covid-19 came to town. Compare to the work in last year's 50|50 Exhibit, where he presented 50 Bad Beasts.
Does Everything Feel Tilted and Askew These Days?
These days, we are indeed being isolated in lonely boxes. The figures in their squares also serve as commentary on our current house-bound pandemic reality. That's how they read to me. Themes of threat and survival appear, including a few canvases relating to the prevalence of how the mentally ill in crisis are being fired on and killed by police officers. In the many detailed scenarios of isolation there also appears the notion of how we might build bridges to eliminate or close up these gaps. "Non-police intervention is one theme in these works and a concept desperately needed in our communities," the artist tells me, with the insight of a parent and someone with mental health advocacy experience.
In Murphy's work, I look for glimpses of the conversation we had at his museum studio space about Brian and mental health, and the way that those who are in need try to reach out for help amidst isolation. These boxed-in creatures are also reminders of the isolation that strikes those dealing with mental illness. Murphy has visually captured neurotransmitters and neuroanatomy and explored mental health themes in his work for years. "Visitors to my studio often asked about my interest in neuroscience, and that often led to conversations about mental health challenges and neurodivergence. It was a rarity when the visitor didn't respond by saying "My brother, my daughter, my dad… suffers from a mental illness. Then, once the conversation door is opened, he says, "empathy begins to flow in both directions."
Loneliness is quite often the plight of those with mental illness—or it can be. Murphy believes that ultimately his son Brian died of what he terms "a consuming hopelessness, but likely even more so," he plainly states, "from loneliness." This era is bringing with it separations that further impact the mental health of people from all walks of life, from those who had prior to Covid struggled with issues of mental health to those for whom life in the pandemic, with its new forms of privation, loss and isolation is leading into crisis. It is not helping anyone.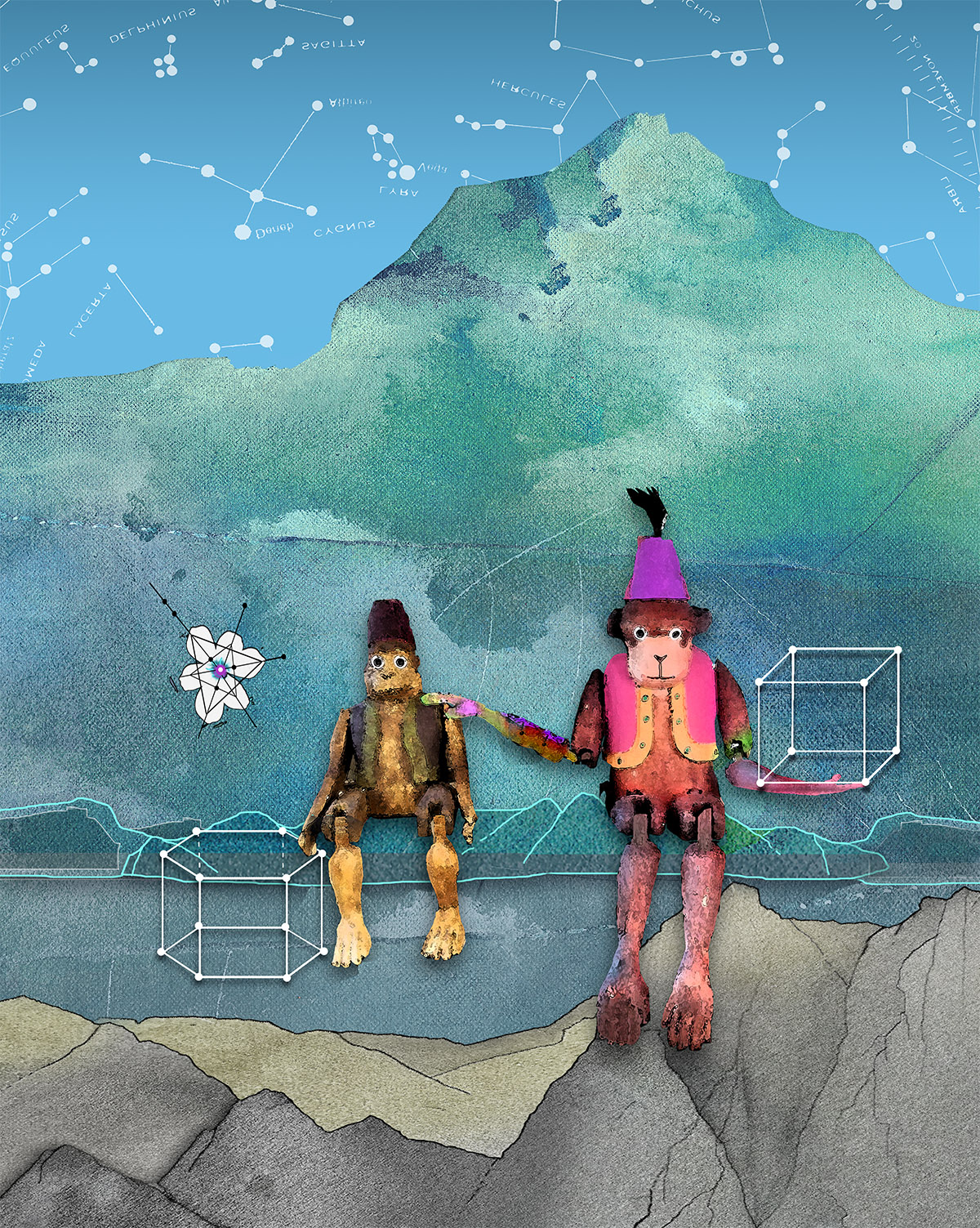 I stand in front of Murphy's piece and phone him to talk about it; a visitor taps me on the shoulder to remind me no cellphones are allowed; I speak from behind my mask that "I am talking to the artist," which, I suppose makes it okay. I lower my voice. The whole canvas can be read as an integrated world—a cosmos. The fantastical beings who inhabit the landscape under the dome of a poetic sky might as well be us. At some point, like a cluster of split atoms, torn asunder, these pieces will scatter to separate owners—and we will see for example the two monkeys whose arms reach out to each other may have to be split up. We may see the very sky torn apart, constellations fall out of their orderly orbits. It is a world I would like to be in at first look. But, it is a world I know will impose separation and constraints and claustrophobia and loneliness.
Ways of seeing how artists process grief captivates me, and I am curious to ask artists—what was your artistic response to losing your child or partner or parent? I have looked at Neil Murphy's 50 canvases in light of what I know about his and his family's last few years of hardship. During an era when grief and loss are broadcast on the news 24/7, Brian is still present here. We are all vulnerable to the effects of social isolation and the stress of uncertainty—even those who score high on happiness tests and have neurotypical brains. Grief upon grief and loss upon loss; we are all Covid pilots trying to navigate our new world. Our reality is altered. Yet, Schizophrenia upends reality in a different way. Is this another aspect of the crooked world, this chaotic meme that Murphy is trying to portray?
On January 30, 2019, Brian Murphy took his life by throwing himself under a train—mid-way so as not to traumatize the driver. He was 30 years old. The artist, his wife, and Brian's sister were forced to move ahead through one of the toughest hurdles we can have to pass. After this exhibit, Murphy's bereavement work will continue. I think of Small Beasties Wander Through Our Chaotic Times, and the labor he put into it and all the commissions and other pieces he has completed since. In some part, they are milestones on the artist's journey towards rebuilding his world—without Brian. I am reminded how he has spoken of the helpful group of new comrades in grieving he has made at KARA in Palo Alto. They, like some of the figures in the right-angles askew world, have been shaken up themselves, and yet they help each other, as he says,"in ways perhaps only those left behind by a loved one who took their life by suicide can."
Murphy has spoken so highly of his son, during and after his more neurotypical brain was altered by biochemical changes. Labeled Schizophrenia. He relates how much Brian loved math. Brian had attended Stanford University where he was supposed to carry on with his lifelong love affair with math. He planned to major in symbolic systems. The future looked promising for the bright, capable and charismatic young man. "Math was always important to him, but perhaps even more so after his brain began to diverge from the logical unfoldings of our 'normal' world. Math was a special comfort because, for example, 2 + 2 always = 4. In his world, which had become unglued, that fact remained reassuringly unchanged." he says. "He would often listen to two college math lectures at once. One in each ear. I believe this was comforting to him. He felt if he could somehow learn enough math, he could overcome his differences." He thought that it was a solution for how he could fit into society.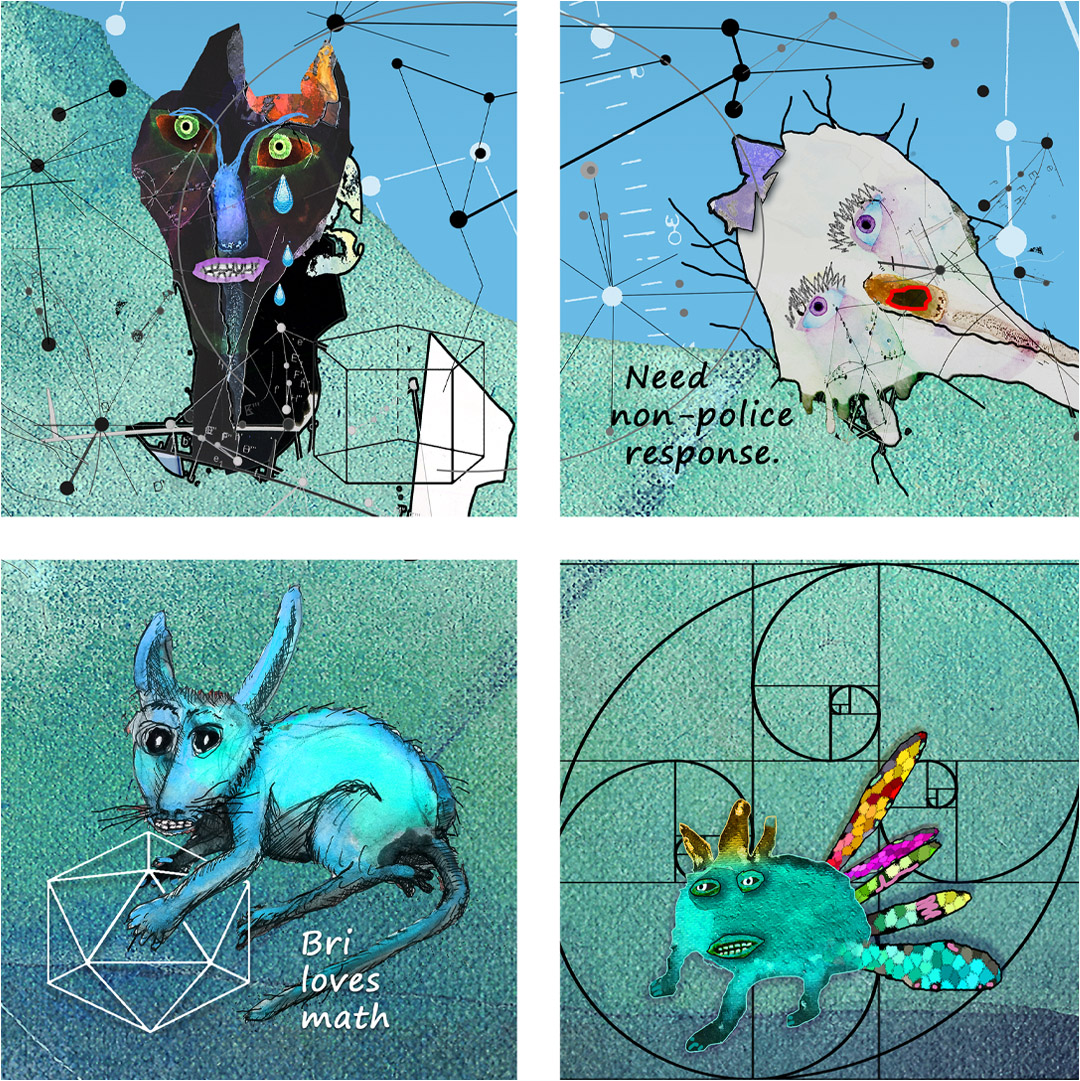 During the traumatic days following an earlier suicide attempt, Murphy created a visual representation, almost a map-as-talisman to help Brian overcome his suicidal ideation. The painting is a reminder of the time they journeyed together through rough terrain. It shows a canyon, a suicidal canyon, and across this gap is a bridge with imaginary color spirits. Their purpose was to guide Brian and his suffering suicidal thoughts across to a land of hope as an alternative to descending into the sad abyss below.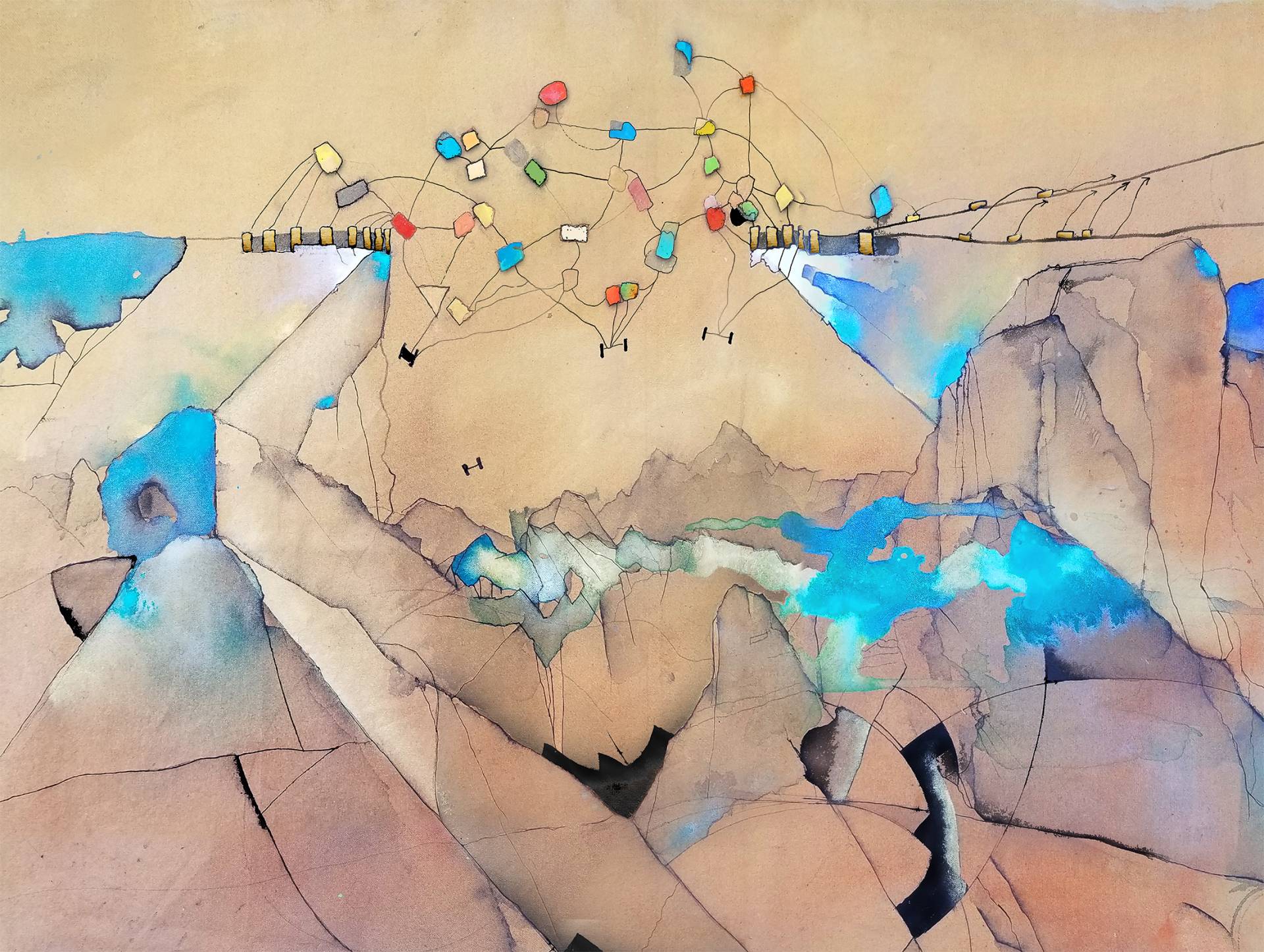 There are only so many facts you can share about someone: he went to Stanford University. He loved math and music. He loved to skateboard and swim in his youth. He had a handsome and gentle face. Before college Brian traveled in China for a year. He came back fluent in Mandarin. He had already learned Spanish. All these things are finite and known quantities. Yet, now he is less constrained and belongs to the infinite. I wish I could have met him—his life has touched me. We have his dad and his family's memory of him to thank for that. I am struck with the poignant beauty of hearing about, of contemplating, the love a parent has for their child—this love that remains forever intact. However, in the artist and father's words, "No matter how strong your love is for someone, it can't protect them from death." A simple truth, it hurts so much when it hits home.
Brian might have been able to move past his inner world being reorganized by Schizophrenia. He might have found a way to reach across the perimeters and boundaries imposed by the fact that we are all separate beings with other minds trying to, if we can, help one another. His son was unable to consider living in this altered state but had such a big heart—and wanted to reach out and help others with their difficult situations. His parents' foundation might have been the perfect home for his helpfulness. Chaos won.
Yet, Murphy shares a story from Brian's younger days that suggests how truly complex and deeply empathetic they experienced him to be. "When he first became ill he mentioned that if he were gone, we'd be sad but would move on with our lives. I told him at the time we'd cry for the rest of our time on Earth. I believe he held on as long as he did so as not to cause us such terrible pain." He chose to end his suffering, and the way he went showed his largesse. He went from this world in a finality of empathy.
Links to Neil Murphy's work
https://neilmurphystudio.com/ob/
www.Neilmurphystudio.com
https://www.instagram.com/neil_murphy_art/
https://neilmurphystudio.com/neurons.html
https://neilmurphystudio.com/50×50.html