The Hidden Gifts in Catastrophe
Following catastrophic loss or any life altering transition there may be teachings or unanticipated gifts that we discover in the process of transforming our worldviews.  Following the death of my 18-year-old daughter Jeannine, I discovered the gifts of "transient angels", individuals who crossed my path for a short time. Their presence however, was sufficient enough to help me negotiate an uncertain moment or moments in my grief, during which I questioned whether I'd be able to survive in a world, that didn't have my daughter in it. I have also discovered that gifts are sometimes bestowed upon us without ever knowing the giver of those gifts. It is then that we truly understand that we are all connected.
Rediscovering Family
During the past month, through pure synchronicity, a woman who has turned out to be my first cousin on my father's side of the family contacted me. My father, Austin, left my mother Sadie and me, in my fifth year of life, and I never heard from him again. My cousin, Jo Anne Davis has given me rich information about my father's side of the family, information that has helped me further understand the context of the decision he made to leave my mother and me. It has also motivated me to try to find out more on my own.
My Grandmother Mary
Recently, my wife, Cheri, was looking through some boxes and bins in our basement, when she discovered some letters that my late paternal grandmother, Mary  Roberts sent to my mother, Sadie. In previous articles that I wrote about my father, I had mentioned that he was one of five brothers from five different fathers. I have since discovered that my Grandmother Mary had five sons from three different marriages. Her third marriage to a Jewish man by the name of Abe Goldman lasted approximately 26 years. There are five letters that my grandmother Mary sent to my mother; within a six year time span from 1956-1962 .She would always consistently inquire about my mine and my mother's well being, and discuss recent family news. My grandmother Mary and my uncles, whom I never met, came alive to me through her letters. My grandmother Mary also professed her love for cards and reading the horse racing forms. I remember smiling when I read this, and thought that she must have been a colorful character in her day. She had hoped that we could come down and see her in Baltimore, where she lived and where my father lived before relocating to Upstate New York and marrying my mother. Unfortunately, distance as well as circumstances prohibited a visit from occurring.
A Prediction of Brilliance
There was an excerpt from one of her letters dated April 19th that really got my attention: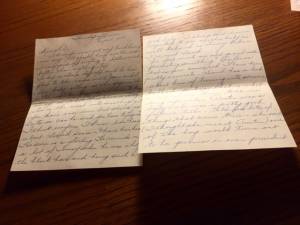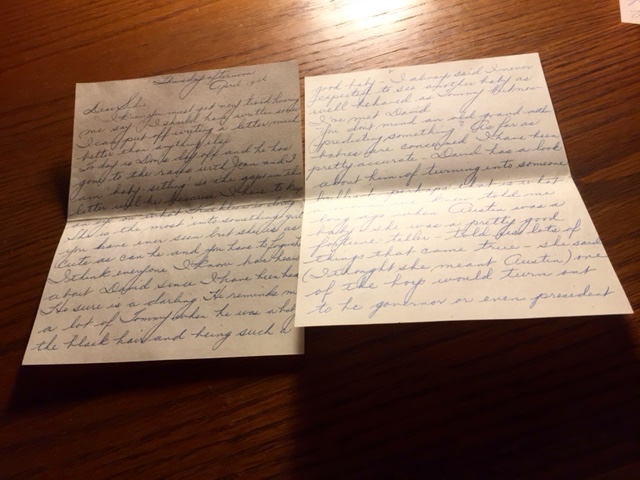 You don't mind an old grandmother predicting something? As far as babies are concerned, I have been pretty accurate. David has a look about him of turning into someone brilliant. Perhaps that is what a woman we knew told me long ago when Austin (my father) was a baby. She was a pretty good fortune- teller-told us lots of things that came true. She said (I thought she meant Austin ) one of the boys would turn out to be governor or even president, a very brilliant man. She may have meant David- he has all the earmarks. When my father left, I believed that he did because my mother and me became unlovable to him.  I have recently redefined my perspective about his actions and now believe that he actually left because of his deep love for us. I allude this in an article I wrote for The Grief Toolbox in July of 2012: http://thegrieftoolbox.com/article/father-s-love-non-traditional-story-loss-and-enlightenment#.T_NoNGMz0cU.facebook .
I also know now that his mother and my grandmother Mary loved my mother and me. My grandmother Mary also communicated  faith in my ability to succeed in anything that I chose to undertake. I have no recollection of my grandmother, but I believe she on some level connected with my soul.
You can't judge the true value of anyone's life, including your own

The Afterlife of Billy Fingers by Annie Kagan
I never did become governor or president and certainly have no aspirations for political office any time soon. My grandmother's predictions for my future didn't materialize in its original form, but that is irrelevant. What is relevant is her strong belief in my ability to succeed and that in some way I'd an impact in the world around me. Those were her gifts of promise and perhaps, hope, to me. Her gifts will continue be fully utilized as I continue to walk the path of transformation following my daughter Jeannine's death and rebirth into a new existence.