Rich Rosser's book, Piggy Nation: Let's Go Camping, is available at his website.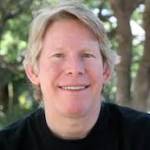 Richard Rosser
More Articles Written by Richard
Richard grew up in an Oklahoma household filled with books and music. As a child, he and his brother enjoyed writing stories and plays for neighborhood kids. While in high school, Richard's brother was killed in a car accident. Richard graduated from Washington and Lee University, where he became involved in filmmaking and won a Student Academy Award for his animated film, No One For Chess. After earning a Master of Fine Arts in Film Production from New York University, Richard worked on numerous Feature Films and TV Series including children's programs for The Disney Channel and Nickelodeon. In 1999, Richard and his family moved to Los Angeles where he continued to work on series TV, landing a job on the Fox show 24. Life was good. The family loved Los Angeles, there was steady work and no extended travels to distant film locations. Richard's wife Stacey began working for a boutique winery, daughter Ali honed her skills as a painter and photographer, and son Nick worked as a lifeguard and camp counselor. One evening, Richard and his family met his mother-in-law for dinner. After watching a man steal a parking space from his mother-in-law, Richard and his kids created the Piggy Ticket, and the concept of Piggy Nation was born. Tragically, Richard's son Nick died in a car accident soon thereafter. Two years later, after struggling with the grief of Nick's death, Richard felt a pull to resume work on Piggy Nation. He wrote his first children's book, Piggy Nation A Day At Work With Dad, and began performing assemblies for elementary students. Piggy Nation has since spawned a children's stage production Piggy Nation The Musical, a children's chapter book, Piggy Nation Let's Go Camping, and a comic strip. With Piggy Nation, Richard has found a way to honor his son and brother and their love of working with children. Nick and Rex's spirits continue to infuse Piggy Nation with energy and creativity. Richard lives in Pacific Palisades with his wife, daughter and 2 dogs Rosco & Winnie.