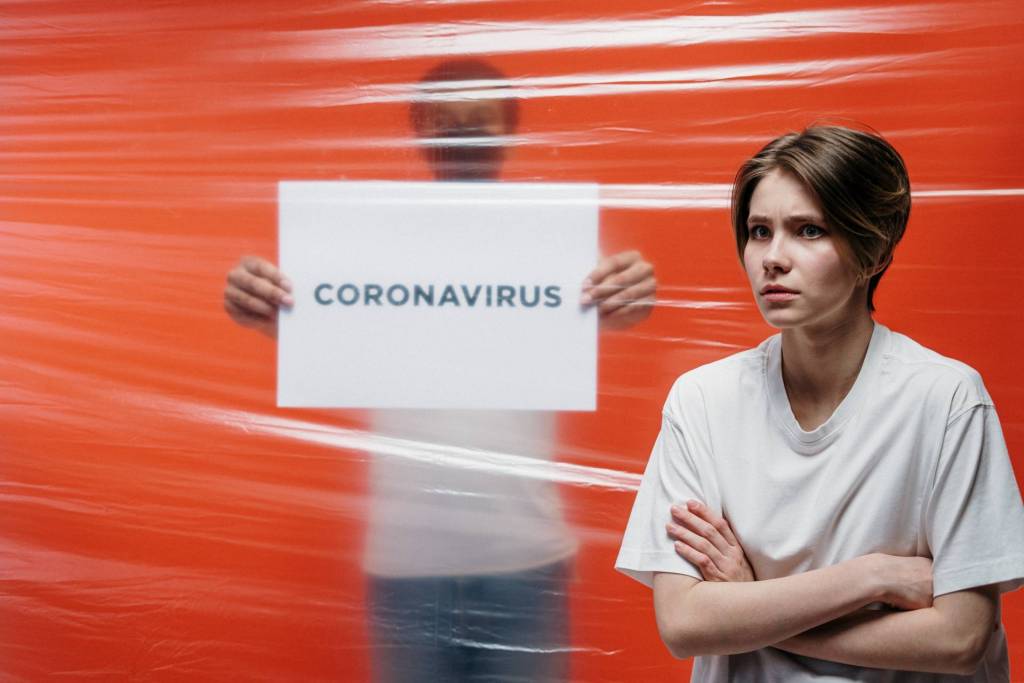 Today, I hosted a Facebook Live session with my daughter, Heidi, to discuss the impact of the coronavirus.  Tambre Leighn, an Open To Hope author, certified coach, Funder of Well Beyond Ordinary, and behavioral change expert, also joined us.
Contracting the Coronavirus
Our session started with the news that my daughter, Heidi, took a coronavirus test this weekend and learned last night that she has tested positive. After starting to develop symptoms last week, she took action and got tested. Now, she is self-quarantining for the next 14 days, using protective gear and self-isolation to protect her husband and children.
Now that she has been diagnosed, Heidi has experienced a wide range of emotions — from anxiety to relief that she has a diagnosis to self-judgment about wishing she had known before getting on a plane or being anywhere in public. Heidi also feels anxious about causing any harm to her loved ones and even strangers she has come in contact with the last week or so.
However, it's also been an important step for Heidi to share this information with us. It's not meant to alarm or cause anxiety. Instead, Heidi feels it's important to use her own experience to raise awareness of the importance of physical distancing and being aware of how our actions and decisions can impact others.
Dealing with Rising Anxiety
This leads us to today's guest and discussion about the impact of the coronavirus and the level of anxiety that it is creating. There is a lot of anxiety about the unknown, including what is the outcome of all of this. We also want to know how long will it go on and whether we and our loved ones will get the coronavirus and how bad it will be.
It's understandable given the enormous impact and rate of change that we see happening around the world. While the information is good to know, it can also make us feel overwhelmed and contribute to the anxiety. Instead of answers, it only furthers the sense of the unknown since nothing has happened like this in our lifetime.
When we become anxious, it's our mindset that focuses on the things we can't control. In this case, there are many aspects of what is happening that we can't control.
What We Can Do
However, we can also choose to focus on those circumstances we can control. We can help ourselves, our loved ones, and our community by following all the mandates that the city, state, and federal governments have put into practice.
Another thing we can do is look at what triggers the anxiety in each of us. For some, it might be the media while others may have grief and loss in their lives that have amplified their anxiety.
Once we identify the trigger, we can then work on shifting our perspective and taking some action to move away from that trigger. If it was the media, then reduce how much time you spend reading and watching news stories about it. Do something that gives you a sense of purpose — whether that's exercise,  a hobby, or something similar to what Heidi is doing by participating in this Facebook Live session.
Resilience and Inner Strength
We have to know that we have the strength and resilience to overcome this situation. Believing that can help minimize the anxiety, which otherwise could adversely impact the physical strength of our immune system. And, we all need that immunity right now to physically fight this virus.
Then, there is our resilience. This is the capacity that we have to recover from situations and move forward. Many of us have had past situations that provide evidence of our resilience. If we have suffered loss and grief in the past and been able to carry on with our lives, then we are resilient.
Physical Distance, Not Social Disconnection
Now, more than ever, we need each other. How we give ourselves the time and attention we need may have changed to a virtual channel. But, it is just as important and beneficial that we reach out to others — our friends, family, neighbors, and colleagues — and let them know we are here and thinking of them.
In the process, we will also have been proactive in controlling certain circumstances. We are choosing to physically distance ourselves to stay healthy and keep others safe, too. But, we are not socially disconnecting.
An Action Plan
Throughout this situation, it can help to create a personal action plan for yourself. It should fit your values, circumstances, and what matters to you. With this action plan, you have a purpose and focus that shifts your perspective away from the thoughts that make you anxious. You'll able to keep your mindset on the actions you need to help yourself and those around you get through this situation.
Tags:
anxiety from coronavirus
,
coronavirus and fear of loss
,
coronavirus diagnosis
,
emotional impact of coronavirus
,
living in quarantine