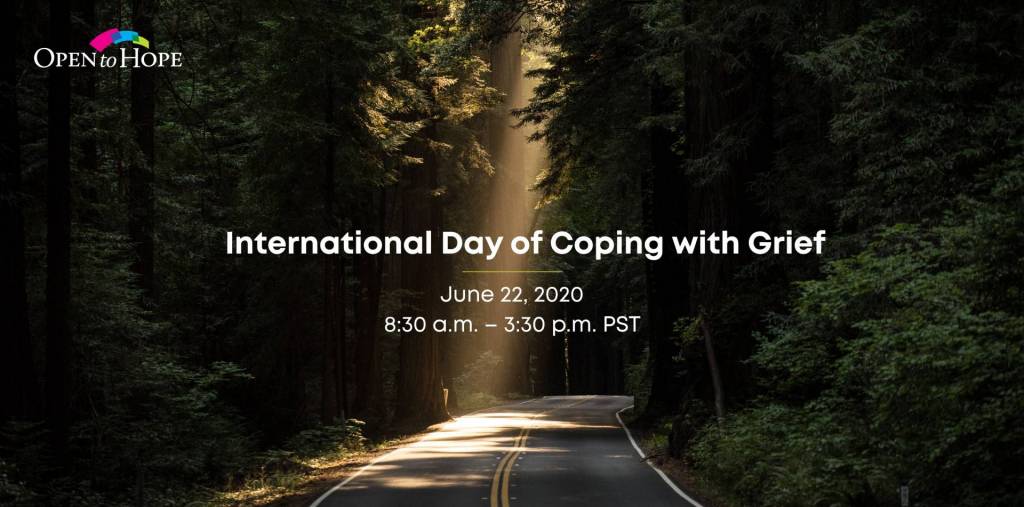 Today, on our Facebook Live discussion, Heidi and I talked about how to cope with the fact that all of the upcoming bereavement conferences have been cancelled due to the shelter-in-place mandates and the ongoing need to maintain a certain physical distance.
In-Person Bereavement Conferences Cancelled
We're all sad that all the summer in-person bereavement conferences have been cancelled. This is the season for so many of them. It's a time we all look forward to so we can connect with old friends, make new friends, and get hope from the hope and healing that's part of the conference panels, keynotes, and social interaction. We also will all miss those physical hugs and face-to-face support.
An Online Bereavement Conference Event
This first-of-its-kind, online experience brings together organizations and noted individuals devoted to supporting the bereaved in their time of need. It will take place on June 22nd from 8:30 a.m. (PST) to 3:30 p.m. (PST), streaming from the Open to Hope website. During the day, you can see different panels and discussions, including breakout sessions and workshops from 9:30 a.m. (PST) to 11:30 a.m. (PST). We will close the day out with a candle lighting session.
Speakers are experts in child loss, spousal loss, partner loss, and loss will give their time, talents, and advice. They
We will cover a range of topics related to Grief, Loss, and Hope:
Loss During COVID-19
Child Loss
Sibling Loss
The Grieving Process
Spousal Loss
Event Sponsors
Event Sponsors include:
Bereaved Parents USA

CW Cares Foundation

Creative Visions Foundation

Elisabeth Kübler-Ross Foundation (EKR)

Helping Fathers Heal

Helping Parents Heal Foundation

Open to Hope Foundation (Dr. Gloria Horsley and Dr. Heidi Horsley)

Soaring Spirits Foundation

The Compassionate Friends International

The Compassionate Friends USA

The Dougy Center

The Grief Tool Box

Tragedy Assistance Program For Survivors (TAPS)
Join Us Online for an International Day of Coping with Grief Event
Join us for the International Day of Coping with Grief. It will be a day of hope and healing as well as virtual hugs.
Register here for this free event.
Facebook Live Discussion
Watch our Facebook Live video here:
Tags:
bereavement conferences
,
online event
,
virtual grief conference